JUDGE SAUER WANTS HIS MINUTE OF FAME - THIS IS ALL BULLSHIT! PARIS HILTON NEED TO GET OUT!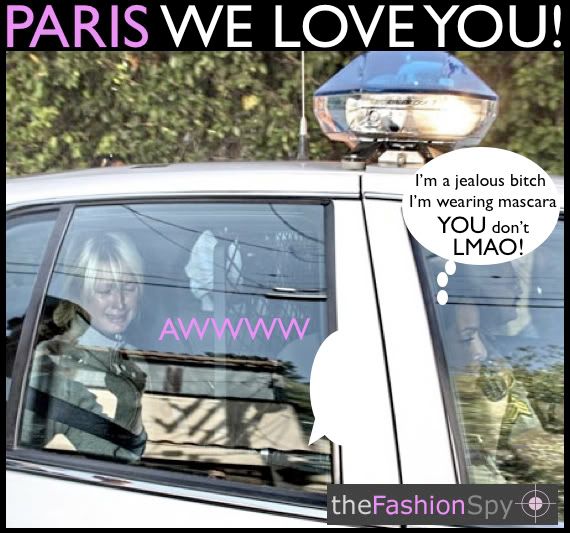 PARIS HILTON was taken handcuffed and crying from her home. She was escorted into court disheveled, without makeup, hair askew and face red with tears.

Crying out for her mother when she was ordered back to jail, Paris Hilton's cool, glamorous image evaporated Friday as she gave the impression of a little girl lost in a merciless legal system.

"It's not right!" shouted the weeping Hilton. "Mom!" she called out to Kathy Hilton, who also was in tears. COULD CLAUSTROPHOBIA BE PARIS HILTON'S MEDICAL ISSUE?

The 26-year-old hotel heiress tried to move toward her parents but was firmly steered away by two sheriff's deputies, who held her by each arm and hustled her from the courtroom.

Judge Michael T. Sauer is making a mockery of the legal system, in my opinion. Oh, and remind me NOT to vote for LA City Attorney Rocky Delgadillo who congratulated Judge Sauer on his decision to send Paris back to jail to server the remainder of her original 45-day sentence. WTF!? This girl does NOT need to be locked up; she is NOT a threat to society; and she's do a lot more good volunteering her time to the city or to the community than she would sitting a jail where they're unequiped to properly protect her and where our tax dollars are being thrown out the window.

SHERIFF BACA IS A RESPECTFUL LAW OFFICER, HE DIDN'T EVEN WANT TO PICK MISS HITLON AT HER RESIDENCE BECAUSE HE DOESN'T HAD TO FOLLOW THE JUDGE'S ORDER. PARIS WAS UNDER HIS AUTHORITY. WATCH THE VIDEO

And let's take a look at JUDGE SAUER'S PAST - he unsuccessfully argued a famous First Amendment case, Cohen v. California, back in 1971. Sauer argued that a guy walking into an LA courthouse wearing a jacket with the words "F*ck the Draft" on it was disturbing the peace and that it was "behavior which has a tendency to provoke others to acts of violence." Attorney Melville Nimmer (who wrote the bible of copyright law - Nimmer on Copyright), crushed Sauer's argument in front of the Supreme Court (thank god), and Sauer retreated to the second most important case of his career, deciding Paris Hilton's fate -- and OH what a job he's done with this one!

PARIS NEEDS TO GET OUT MONDAY! SHE DESERVE TO BE HOME, AND YES POORTOFINO TAN CAME WHEN SHE GOT OUT ON THURSDAY TO GAVE HER A MISTIC SPRAY TAN. YES THAT'S HOT!